It is getting closer! The 18th edition of the ČSOB Bratislava marathon is coming next weekend. As the deadline approaches, we receive more and more questions from participants, so we will try to answer them all in this article. In the event that we come across a question that is not answered here, we will add additional information here.
How to get to the event – parking, traffic, public transport 
Marathon village + place of the event : Eurovea, Pribinova street, Bratislava
Parking and entry information, see this post.
Starts of individual disciplines
Hobby races – Saturday 01.04.2023:
toddlers race: 09:30 – at -1. floor inside Eurovea
Bratislava´s mile (1600m) : 10:00
Turbo TV kids´ runs: 10:10
Garmin minimarathon (4,2 km) : 14:00
Senior run & walk (4,2 km): 14:05
10 km run with Birell : 16:00
Race day – Sunday 02.04.2023 – ČSOB marathon, Renault half marathon, Mattoni relay marathon and Mattoni relay half marathon, start from 9:00 h in 4 blocks:
Block A – ČSOB, start at 9:00 h: marathon under 3:15 h + half marathon under 1:45 h + Slovak championship of MI and PF
Block B – Renault, start at 9:04 hod: marathon 3:15 – 3:45 h + half marathon 1:45 – 1:55 h
Block C –  New Balance, start at 9:08 hod: marathon 3:45 – 4:15 h + half marathon 1:55 – 2:05 h + relays
Block D – Veolia, start at 9:12 hod: marathon over 4:15 h + half marathon over 2:05 h 
Complete propositions for individual disciplines can be found here.
Disciplines that are sold out:
We are sorry if you didn´t register for your favorite discipline. New registrations for sold-out disciplines will not be possible. However, re-registration is possible for a registered participant who cannot participate. If you find such a runner, it is possible to change the registration to a new participant on the spot, which is charged for the amount of 5 euros (payable on the spot).
A forwarded e-mail confirming registration from the originally registered participant will be enough. Check beforehand whether the given participant is on the start list.
Link to the start list.
When can you pick up your starting packages?
Presentation (pick up of starting packages) will take place in the following general dates in our organizational tent on the square in Eurovea:
Thursday 30.03.: from 12:00 to 19:00 h
Friday 31.03..: from 12:00 to 19:00 h
Saturday 01.04.: from 8:00 to 19:00 h
Sunday 02.04.: from 6:30 to 8:00 h
Additional information:
In the case of relays, one member takes over the starting packages for all members of the relay.
Another person can also take over the start package for a competitor, as long as he proves himself by a confirmation e-mail about the registration of the competitor from whom he wants to take over the start package (just show it on his mobile phone).
The kid´s starter pack can be collected no later than Friday, March 31! The exception is children from outside Bratislava, whose parents can collect the package even on the day of the race.
We ask the runners from Bratislava to pick up their starting packages by 12:00 on Saturday at the latest, if possible. In the afternoon, we expect a large rush of runners who will come to present themselves for the Sunday race. And there won't be enough of them! By arriving earlier to the presentation, you will also have a more convenient time picking up the starter package.
Starting number – what to do with it?
At the presentation, you will receive a start number with a chip. Attention! Do not tamper with the chip on the back of the start number! It could be damaged! Place your start number on the top layer of your clothing with the enclosed safety pins or so-called race belt if you own one.
On the start number you will find a QR code for your photos from the event (this is also why it is important not to cover the number with, for example, a jacket), the block from which you will start and a "wristband" that you can use for your luggage, which you want put away in the depository (on the left in the picture).
Please pack things for storage in one piece of luggage, thus speeding up the delivery and search of your things.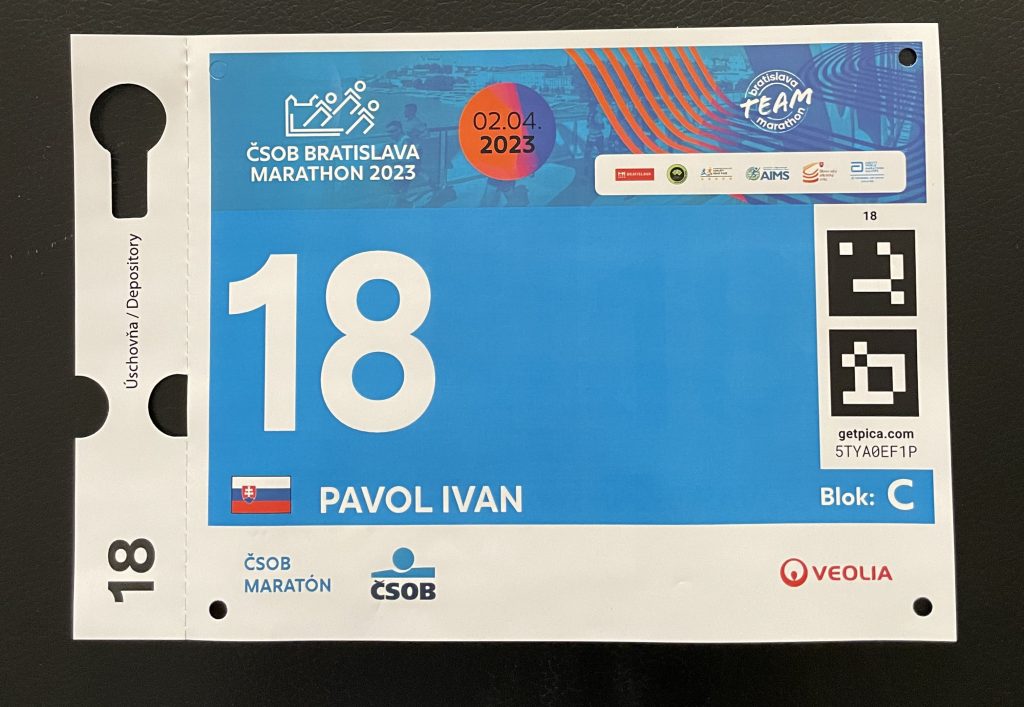 On the back of the start number, you have the option, at your own discretion, to fill in any medical data about you that you consider appropriate and that you consider may help the organizer with your possible treatment during the event. This data will be used by the organizer exclusively in case of medical complications of the competitor and subsequent treatment by the health and rescue services.
Basic schedule of the event
In the basic schedule on our website you will find information such as:
times of presentation
start of disciplines
times of award ceremonies
times of additional activities at the event, and others
Link: https://www.bratislavamarathon.com/events/bratislava-marathon-2021/schedule/
Marathon HUB powered by Nový čas
New interactive space in the marathon town at the 18th ČSOB Bratislava marathon. In the Marathon Hub, conferences will take place, as well as sports discussions for the public, you can meet here also Slovak Olympians and representatives, such as Danka Barteková, Ján Volko, Richard Varga, and Marek Hladík, as well as the Estonian Olympian Roman Fosti, who is one from adepts to victory in the marathon! Come talk to them and learn valuable advice and information! There will also be a charity bazaar, where you can grab great running items and help a good cause at the same time. The entire proceeds will be distributed between the civic associations Slniečko na ceste and Mamy v pohybe!
Exact schedule is here.
Our pacers for 10 km, half marathon, marathon
Our pacers can help you to achieve your your running goals:
at 10 km pacers will run with you on time 45 min, 50 min, 55 min a 60 min
at half marathon pacers will run with you on time 1:30 h, 1:40 h, 1:45 h, 1:50 h a 2 h
at marathon pacers will run with you on time 3:15 h, 3:30 h, 3:45 h, 4:00 h a 4:30 h
Finisher t-shirts
Individuals who star on a half-marathon and marathon discipline will receive a finisher t-shirt with a design of 18. ČSOB Bratislava Marathon, for the successful completion of the track.
Where and when will you pick up your t-shirt and what do you need to pick it up?
– after you finish, in the registration tent on the square, you will prove yourself with your start number. After taking over the t-shirt, we will cut the corner on the number with scissors.
You will receive the medal at the finish line. After the race, you can have your name and the resulting time engraved on it at the supplier's stand. This service is charged.
What do finisher shirts and medals look like? For more information, see this article.
BILLA pasta party
On Saturday, 1.4.2023 from 14:00 to 18:00, runners can refresh themselves after their sports performance in BILLA PASTA PARTY with a portion of tasty and quality pasta with tomato sauce from Podravka Slovensko and after the finishline with fruits from local suppliers from BILLA Slovensko. You will get your tasty portion after you show the ticket to pasta party from your starting pack.
3D map for half marathon/ marathon and relays
Can't find your way in a 2D map? Never mind! In this 3D animation we have marked:
Location of refreshment and water stations
"Relay pins" – handover points
Places where you will change direction in 180 degrees
Study it well and we guarantee that you will lose the unnecessary stress of the "unknown".
Link: https://www.youtube.com/watch?v=aJ6amjL_tws&feature=youtu.be
2D maps of each disciplines, can be found here.
ČSOB Bratislava Marathon online magazine
You can read all the necessary but also interesting information about the event in our online magazine. Link: will be added soon